Our local "Everyone" race. Did this last year - love those roads blocked off to traffic - this year I was hampered by a bit of an infection and had to take it easy. Still managed a decent time. Let's hope the race is on next year.



Some serious training for the Yorkshire Dales in the summer.



My "maiden voyage" to this set of hills - I'm going back for more. This region has definite sado-maso potential.



Test run for the forthcoming "longest day" tour. Forgot to set the tacho/bike-computer running at the beginning of the ride so I missed a few kilometres, and afterwards I biked to a mate's house - at the end of the day I had cycled over 200 kilometres. I still can't imagine how professional cyclists do this kind of thing day after day with even bigger climbs. I'm obviously taking the wrong drugs ...
Beautiful day with a few highlights:
a) Having to stop and get my bike cleaned with a pressure hose after 20 km (must have been a heavy storm the night before, washed half a field over the "High Road" and I didn't realize how much mud it was till it was too late)
b) Being accompanied by a fox for about 1 km at 35-40 km/h - it took me 1 minute to figure out what was running through the wood alongside me although I couldn't see it. I half expected to see Legolas or some other Tolkeinian character. As soon as I saw the fox, it registered that I had seen him and he (maybe it was a she) stopped dead in its tracks.
For those interested in the Vulkan Cycle Path, some info in English: Volcano Cycle Trail
So, Saturday 21st June - "The Longest Day". I had this daft idea about 6 weeks ago. The 3 highest mountains in the county all in the course of one day. Around 200 km and nearly 3000 metres in climbing. I mentioned it to some of the lads - well they're blokes really - in our little Sunday "Grupetto" group, and they took the bait. They even organised it all, sorting out accommodation at the mountain-top finish, getting girlfriends to drive all our clean clothes up there, reserving a table for dinner etc.


Just gone 8, about to set off. Left to right: me (already warmed up after cycling the local streets for 10 mins); fellow ex-pat Matthew in his Swiss "mountain goat" jersey; Markus well wrapped up as ever; Sebastian looking his usual fit self. Not on the photo is head of logistics Dirk (poorly) and Sven (camera), who accompanied us for the first 60 km.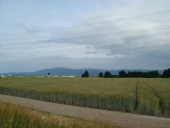 08:40 The Feldberg, the first peak of the day can be seen in the distance - above the first tree on the left (if you look closely, you can just pick out the aerial on the top). It might not look impressive, but that's 'cos it's still 20 km away. Personally I thought It would be the toughest climb of the day. Which just goes to show how little I know. Actually I've never got up it as easily or as quickly as I did this day. At the weekend the road up to the top is normally populated by motorcyclists making a right racket. Very few today. The other lads, being younger and fitter than me, were some way ahead of me, and as I came round the biggest serpentine I saw Matthew walking across the road. Nasty thoughts went through my head - but all was OK, they'd just been helping a learner biker out of a ditch. Markus seemingly upset the learner's instructor. His response to a request for help getting the bike out of the ditch was to take a photo of it all!


10:00 One down, two to go. Round of coffees at the kiosk and a round of energy bars. Lots of fog/mist/cloud. Very few bikers, no other cyclists. Here we are, all wrapped up for the speedy (and chilly) descent. Then it's over to the Bundswehr Munitions Depot (tucked away in the woods) and a very fast descent (I was doing 70 kmh and the others were going even faster, above all speed-king Sebastian) accompanied by a lady triathlete (who promptly turned round at the bottom to go all the way back up again) before we hit the main roads again.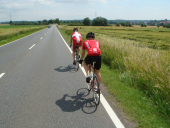 11:45 Just near Ilbenstadt, shortly after bidding Sven farewell and stopping at the garage for more energy drinks and more energy bars. At last the sun is out. Just as well really as it's quite breezy.


13:20 Ortenberg, a pretty little village on The Vulkan Radweg with my favourite cafe. The temperature is rising now - 37°C in the sun - and I'm glad we'll be heading through the woods soon. More coffee, energy drinks, cakes/sarnies and the ubiquitous energy bars. And at last a chance for me to have a fag. That's fag as in cigarette, by the way!


14:00 A photo with novelty value - I'm at the front as opposed to bringing up the rear! If you're wondering who's taking the photos while we're on the move - that's "look-no-hands-ma-Markus", who's very adept at fishing his camera out of one of the back pockets of his jersey and shooting a few pics. Waste of good pocket space if you ask me. Mine are full of - yes, you guessed right - energy bars, cake, apples etc.
Second peak of the day is also in view (the TV tower just to the left of my head). This was a strenuous stretch with a couple of steep (10% and more!) sections before the final, sweaty climb to the top. A big thumbs-up from a bus driver slowly negotiating his vehicle down the hill helped me forget the pain for a bit. Well, for about 2 seconds at least.


15:00 Hoherodskopf. Two down, one to go. Just under two thirds of the way. Now for some grub and liquid refreshment at one of the many kiosks. Hundreds of bikers and quite a few cyclists up at the top.


15:20 First (alcohol-free) beer of the day. And some chips! Well they helped Alf Tupper (remember him?) win gold in the steeplechase at the Olympics (although he was blind at the time and only a cartoon character), so they'll do for me. On a side note: Some alcohol-free beers actually taste better than the "real thing". Bit of a rest, top up the water bottles, munch a quick energy bar and off down the other side of the hill. We parted ways for a while, Matthew and I very deftly side-stepped a hill, while Markus and Sebastian collected more points for the king of the mountains jersey. Another couple of little hills and then down to the garage near Neuhof to top up with energy drinks and munch our way through more energy bars. By now the power gels are coming into play as well. At this point I swear I'm never going to touch anything sweet ever again. Why can't they make these energy bars with chicken curry flavour? Or salt and vinegar?


18:15 The Grupetto in action again. Only about 20 km to go. It must have been around this time that we encountered a right nerd. We're fighting our way up a ramp (15% according to my bike computer, it felt like I was cycling up a wall actually) when this guy in a winter jacket (could even have been a parka, definitely an anorak type thing, and it's nearly 25°C) comes flying up to me on his old bike (it was probably his local hill and he'd just finished work I reckon). He slows down a bit and asks me how far I've come. "180 km so far." "Well bugger me," he says and with that he proceeds to speed on ahead and overtake the other 3. I was pretty gobsmacked to say the least. The Wasserkuppe, the last hill, is in view by now (out of shot unfortunately).
The legs are getting very tired, more energy bar, more liquids. And then the final climb starts proper. The other 3 are pressing on ahead and are soon out of view. For me the final 2-3 km are a lesson in determination and sheer bloody-mindedness (all aided by a last energy bar). "I will get to the top." The sunglasses come off (Christ it's bright all of a sudden, sickeningly so in fact), then the helmet. "Dont' look up," I keep thinking. "Just watch the road a foot or two in front." It's a steady 8-9% climb and the legs are just going from one turn of the crank to the next.


19:20 Markus and Matthew must have been there first, they've already got jackets on to keep warm. Wow - Sebastian is normally the quickest up the hills.


19:25 And at last the road levels out. Made it! Exhausted but elated.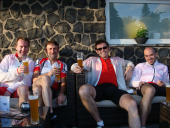 19:45 The (alc-free) beer combined with a ciggy tastes good - and the cushion on the seat feels wonderful I can tell you.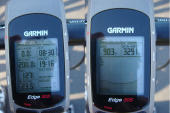 Postscript I: The data from Markus' GPS device. The altitude data are much more reliable from such devices than they are from my barometric bike computer. Markus + Sebastian took in an extra 100 metres of climbing, so Matthew and I must have climbed nearly 3200 metres and not the 2900 that mine came up with.

Postscript II: a) I don't think the grins left our faces all evening. b) I've never seen a plate emptied at dinner as quickly as Sebastian's - he was finished before I was. c) Since unofficial Grupetto boss Dirk was ill and missed out, this feat - or something similar - will have to be repeated. Anyone for the Alps?

Postscript III: For those of you who know me, now shaking your heads and probably asking yourselves why someone who's nearly 50 is doing this with only a couple of years' training. Yes, I'm sure there are easier ways to kill yourself, but there's probably no better or nicer way to do it.
Of course, I could just be addicted to endorphin. Whatever, it's more fun that sitting on the sofa ...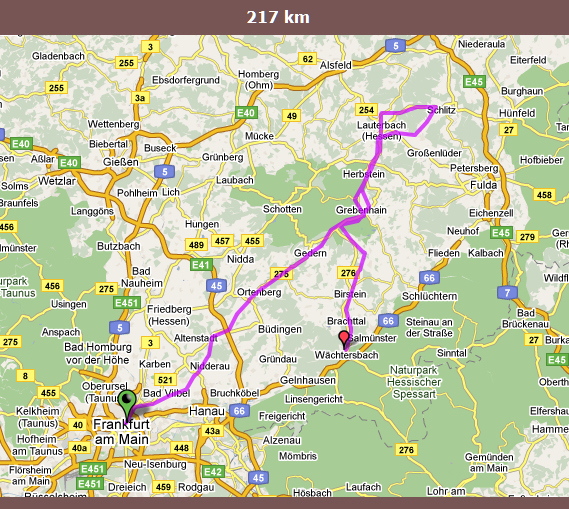 I decided it was high time I cycled the whole of the so-called Volcano Cycle Trail. I say "so-called" because it's not a trail, it's asphalted, and that makes it a cycleway in my eyes. At the end of this cycleway is Lauterbach and then I did a loop to take in the very pretty town of Schlitz which has an impressive looking castle and lots of the half-timbered buildings typical of the region. (I was too busy trying to find my way around to get my own camera out, so these photos are from Wikipedia). Once back in Lauterbach I did stop and take a couple of photos myself though ....

| | |
| --- | --- |
| Ankerturm in Lauterbach | View of River Lauter |
By the time I'd cycled back up the path to its highest point and down the Südbahn-Radweg to Wächtersbach I'd done 217 km - my longest distance ever in one sitting - at an average speed of over 25 km/h - my fastest average speed ever for a solo trip of any great distance involving a) finding paths and b) negotiating strange towns.
Not much point showing a profile for this one - it is pretty flat. Actually, it is very pretty too. This trip made a pleasant change. Five days in the lovely Tauber Valley with my daughter, me with all our gear in panniers, cycling from town to town at 30 km per day as opposed to 30 km per hour. We started in the walled medieval town of Rothenburg ob der Tauber (very beautiful once the day-trippers have gone), and wound our way down the 100 km or so to Wertheim.



I did take off on a couple of pre-breakfast trips while I was at it. Once along the Gaubahn-Radweg, a 60 km round-trip on an old railway track that took me over the hills to the River Main and back. When I arrived back for breakfast and the landlady at the guesthouse asked where I'd been, I had to help her get her chin back off the floor ... The second pre-breakfast trip took me up the Brehmbach Valley for a couple of steep climbs to the pretty village of Külsheim and back.
Another "maiden voyage" to a set of hills - the so-called Radheim Alps. And very nice they are too, set as they are on the edge of the Odenwald. A nice run out on the road racer, coming on the back of the "Tour de Tauber" when I'd been riding with 12 kg of luggage on my heavy touring bike (felt like cycling a tank in comparison to the road racer). This was another great "sportive" event, no worries about the route thanks to excellent signposting, no worries about food and drink, and fast company. An average of over 27 kmh for this type of event with hills is quite nippy for my old legs.
Coast to Coast or Sea to Sea (C2C) is a "must" for a cyclist in England, and I had been mulling this over for some time. The original C2C is from Workington to Sunderland and can be done in one day if you're fit. I wanted to do something different however, and so I decided to cycle from Morecambe (in Lancashire) to my native town of Bridlington because after only 40 of about 160 miles I'd be back in Yorkshire (aka God's Own County). I also considered doing this in one day but as the family wanted to enjoy some of the fun we decided to camp in Hawes, set in the beautiful Yorkshire Dales, and I cycled C2C in 3 stages, breaking up the actual route with a "mountain stage".
Stage 1
Morecambe-Hawes
The day starts with a 50 km ride around Hawes before breakfast taking in the beautiful Aysgarth Falls. Nice and gentle hills with lovely views across Wensleydale. A lot of dead rabbits on the road mind. Then it's time for a decent breakfast before setting off by car to Morecambe on the Irish Sea. Morecambe is a dump, and even the magnificent view across the bay to the hills and fells of the Lake District does little to compensate for this. Glad I didn't decide to spend the night here! Tradition demands that the rear wheel of the bike be dipped in the Irish Sea before setting out to ride coast to coast but the tide is out, and it goes out nearly a mile! Luckily I find a pool of water close to the sea wall. That'll do for me – it's water from the Irish Sea after all. Then a gentle meander along the sea-front in search of the Eric Morecambe memorial statue. I find it and spend 5 minutes or so remembering some of the immortal lines from this comic genius. Now let's get the puck out of here, as the ice hockey player said. There is a very unromantic and busy stretch of busy road out of Morecambe and past Lancaster before I finally turn off towards the Benthams. This is more like it, little traffic, nice country lanes. It is a fast stretch of road and before I know it I'm back in Yorkshire and into the Dales. I make a stop for coffee and a delicious scone in Clapham, where I also chew the cud with a couple of mountain bikers. Now for the hard bit – the Dales proper. Nothing hard about it though, beautiful countryside with hardly any traffic and very soon I'm up at Ribblehead with its famous railway viaduct. I decide to head further up the hill to the pub, where I treat myself to a Red Bull and top up with water. The road from Ribblehead to Hawes is absolutely glorious – a big climb and a fast descent. I seem to fly up the hill past a number of other cyclists. Once I reach the highest point I shift up into a big gear and it's time to go, go, go. And before you can say 'Jack Robinson' I'm back at the campsite, having covered the 50 miles in just over 3 hours, much quicker than I expected. Time for an Eccles Cake (these and Kendal Mint Cake are the only doping a cyclist needs!), a shower and a well-earned cuppa!
Stage 2
Hawes-Hawes
The "mountain-stage" had to be postponed for a day due to mist and low cloud on the hills. In the meantime we've covered a few miles tootling around the Dales in the car and I already have an inkling of just what awaits me. I must confess that my motto for today is survival. Everything else will be a bonus.
The first hill is Oxnop. And it soon gets very steep – 17% and more! My heart is beating at 180, slightly above my maximum heart rate (which is about 10 bpm higher than the average person of my age). I'm not out of breath, but common-sense and the fact that the hill gets steeper tell me it's time to get off and push! This does not augur well for the rest of the day. At this point I wish I had a triple chainring and not simply a compact double chainring. I make a mental note to buy a second bike. After a 2-minute push my heart is back to 120 bpm and it's back on the bike. Surprisingly I'm soon at the top. Now for the next challenge – getting down in one piece. The surface is poor, there are stones, gravel and sheep everywhere. The road is also like a roller-coaster ride with unpredictable blind bends. Will the road veer to the left or the right once I go over the dip? Will there be sheep in the middle of the road? Lots of tentative use of the brakes going down, and then I can see the end of the downhill section. 25% with 4 tight bends and a car coming up! Let him past and then down I go – very gingerly. At the bottom I feel the wheel rims (quite hot from all the braking) as I watch a van about to head up the hill – a very brave driver indeed. At this point I decide to change my original plan and miss out 'The Fleak', which would have taken me back over the same hill by another route, and stay in Swaledale. The next section takes me up to Tan Hill Inn – England's highest pub – over the moors. This is what my brother-in-law calls MAMBA country: No, there are no snakes. Just Miles And Miles of Bugger All! It's all very rideable with nothing more than 15% to contend with. I just wish there were fewer sheep wandering all over the roads. They're like the sacred cows in India. And fewer dead rabbits in the middle of the road would also be good – wouldn't want to slide off if I went over one. Time for a drink and a photo at Tan Hill Inn, then off down the hill. Again all very rideable, the surface is OK and most of the bends are predictable. Soon be time for the day's big challenges. Buttertubs and Fleet Moss.
Buttertubs starts off OK but soon hits a long, sustained 15% and stays like that for what seems like an age. I stop to take a rest at a cairn and to take in the view. It's magnificent – you can see right along Swaledale. Unfortunately for the photographer in me there is little sun, but the cyclist in me is grateful as I'm sweating buckets anyway. I cycle on to the deep shafts that give the pass its name (in ancient days the monks kept butter and cheese there in the summer) and take in more of the view. I keep tending to look over the edge, but of course I find myself veering towards where I'm looking – it's a very step drop indeed! The descent goes OK despite all the gravel and loose stuff on the road, and before I know it I'm in Hawes and heading towards Fleet Moss, England's highest road.
Fleet Moss are two words that strike fear into the heart of many cyclists (along with Coal Road and Park Rash, which are not on my itinerary). It is quite simply unrelenting. Despite the 15-20% climb things go well most of the way up, but then I come to the last couple of hundred metres and the hill gets even steeper. 30% – but it looks more like 40%. I'm out of the saddle and I can feel my front wheel leaving the ground. Time to push. But what a glorious view of the road as it snakes back down towards Gayle and Hawes. Once at the top I have a choice: A 40 km round trip back to Hawes or to simply ride back down to the bottom. I opt for the latter as the sky is getting heavy with cloud (see photo below). The road surface isn't so good and my front wheel soon starts wobbling horribly once I get up some speed and hit a bit of rough asphalt. I manage to keep it under control though and live to fight another day.
Time for the last section of the stage – the trip to Semer Water. Needless to say the road over is steep, but it's only 17% so no need to push. The lake itself is down at the bottom of a 25% hill so I resist the temptation to go and dip my feet, instead opting to head back to the campsite for a well-deserved cup of coffee and some food.
So that was my own personal Alpe D'Huez. Let's find a pub and find out who won the real thing today. I'm somehow pleased that Ricardo Rico has been revealed to be a cheating drug-taker. Stick to Eccles Cakes and Kendal Mint Cake mate!
Stage 3
Hawes-Bridlington
Today is the final stage of my coast to coast ride. But first we have to decamp and pack everything in the car and say goodbye to the Dales. Time for a quick photo before I leave – at which point I become aware of the fact that the wind is coming from the east. This is bad news as I will be riding due east all day (well, as long as it takes me to cycle 100 miles). As soon as I leave the campsite the wind hits me. Oh well, hands on the drop handlebars and head down. All goes well despite the wind till Topcliffe and a rest for coffee and a water refill. The pub has no cake! Never mind, methinks, I'll get some later. My speed has been quite good till now, a steady 27 km/h. And, mercifully, crossing the busy main roads (A1, A19) has been no problem either. Over the next 20 kilometres my constant companion is the White Horse at Kilburn, which although it sounds like a pub, is anything but. It is in fact a horse carved out of the limestone hills. I'm travelling without a map, instead relying on my pre-prepared cue sheets (which have been perfect on the first two stages). I now reach Yearsley and a crossroads. No mention of my next destinations on the signpost, and so I follow my instructions and turn right. At the bottom of the hill I discover my mistake. I should have gone straight on, so I have to go all the way back up another hill and rejoin the road further along! By now I'm also getting ready for some more coffee and a piece of cake at last. No sign of a café or a shop so I press on. I head into the Howardian Hills towards the eponymous Castle Howard. The road is a beautiful 5-mile roller-coaster, running right through the impressive grounds of this stately home. But the café is only open to visitors unfortunately. Oh well, better cross the A64 (easier said than done) and head for Crambe, the next village. Nothing there, and to make matters worse I take a wrong turn again, only noticing my mistake at the bottom of the hill (yet again). I've now run out of energy bars and am running low on water. And I know the last 35-40 miles involve a couple of very steep hills. I now wish I'd put some Kendal Mint Cake in a jersey pocket!! I pass through 5 villages: No shops, no cafés, no pubs! I decide that the English village as I knew it in my youth is slowly dying out. Above all, the smoking ban has seemingly led to the closure of many village pubs. Luckily I see someone gardening and they kindly refill my water bottles.
By now I'm counting the miles to Kilham, where my aunt and uncle live and where I spent most of my youth (when my grandparents were still alive). In those days my grandmother always left the back door unlocked when she went out (and even when she went away for a day or so) on the basis that 'someone might call when I'm out, and then they can at least make themselves a cup of tea'. She was never ever burgled, by the way. Alas, times have changed. So I'm praying my aunt or uncle is at home. My uncle is there! In the space of five minutes I munch my way through a dozen Tuc biscuits, a scone, a chocolate bar, an apple, 3 digestive biscuits, a chocolate-covered rice-crispie-type bun, and all manner of other grub, all washed down with half a litre of blackcurrant barley water. Bliss! After a bit of a chat I bid my uncle farewell and set off to ride the final ten miles. I must have walked/jogged/cycled this old, single-track, hilly Roman road a couple of hundred times, and suitably fortified I seem to fairly fly along. Before I know it I am climbing the final hill and heading towards the North Sea. Luckily we're staying with my mother-in-law, who only lives a stone's throw from the sea-front, so it's time to collect the kids and head for the beach as tradition demands that the front wheel be dipped in the water so as to fully complete a coast to coast ride.
Postscript
Reflecting now on the ride, I'm glad I decided to do the C2C over 3 stages. Would I do it again? Yes. Would I try and do it in one day? Now that I've done this ride over three days, yes I would - but of course only stages 1 and 3. That would be about 160 miles or 250 km. Easily manageable on a summer's day with an early start. Will I ever do the official C2C? Probably. But not in a day. I'd miss the opportunity to really take in the landscape, soak up the atmosphere, stop and take photographs etc.
What were the highlights?
a) Very definitely the 'mountain stage'. I only saw one other cyclist attempting any of the hills, and he told me he pushed his bike most of the way up the hill. Having been over a couple of the passes in a car, I can safely say that you see more from the saddle of a bike in a day than you do from the front seat of a car in a week. And you feel you've really deserved that cool refreshing beer at the end of the day. I didn't even mind having to push my bike a couple of times.
b) The road from Ribblehead to Hawes. No gravel, no sheep, no cattle grids.
c) Completing the final hill on stage 3, coming out of the woods and seeing the tower of Bridlington Priory. I definitely felt a sense of achievement.

Wickstadt
Church


Florstadt
Grey house


Staden
Tower in field


Staden
Water source


Staden
"Bridge of Sighs"


Marköbel
Town gate


Hohe Strasse
Reader's Corner
It's reached that time of year when I often go out on my old bone-shaker. 12 kilos (about 2 stones) of solid steel that can cope admirably with farm tracks, forest paths and riverside cycle paths (the latter generally made up of loose stones with a topping of chippings). Back to the roots as it were. Takes me to places I wouldn't normally get to because I just wouldn't want to ruin the wheels or paintwork on my road racer.


This little jaunt took me alongside the River Nidda on the R4, before I followed the Limes track and then the Hohe Strasse back to Frankfurt. The Nidda has its source in the Vogelsberg area about 60 miles to the north-east of Frankfurt, then winds its way through the Vogelsberg and Wetterau, before passing through northern Frankfurt, eventually flowing into the River Main at Hoechst. I cycled up the river, and from Gronau onwards the path forms the R4 (funny how the Germans give their major cycle-ways names that make them sound like autobahns).
After about 35 km I added a detour to a chapel in the woods near Wickstadt. I was pretty surprised to find a full-grown church in the middle of woods in the middle of nowhere. Then it was on to Florstadt and Staden. These two little towns have many half-timbered buildings; Staden also has a castle (now a hotel) and a very tasty natural mineral water source. It is here that the Limes cycle-way crosses the R4. This cycle-way follows the route of the Limes Germanicus, a fortified line which effectively marked the edge of the Roman Empire. Hilly, woody cycling. But I'm going back for more. At Marköbel the Limes intersects with the Hohe Strasse (literally "High Road") or as it was once known the Via Regia. The section between Bergen-Enkheim at Frankfurt's northern edge and Marköbel makes for excellent cycling, with a pretty good surface and stunning views at times. You can see what I mean if you have a look at this selection of photos taken along the route by various contributors to Panoramio.

To view Panoramio photos you require Google Earth. To ensure you can always see Panoramio photos,
activate the Panoramio button under "Geographic Web" in the "Layers" panel.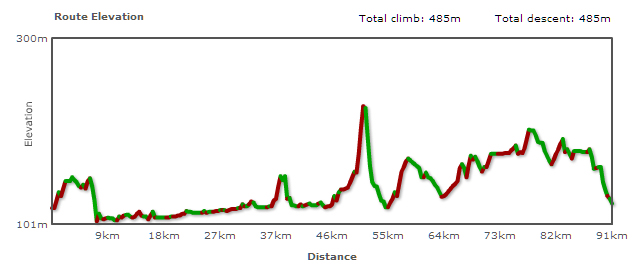 Fechenheim


Goetheturm


Confluence of
Nidda and Main


Ferry at
Hoechst
This "Green Belt" cycle-path was a real eye-opener, something which prompted me to repeat the adventure less than a week later, this time cycling in the reverse direction. About one third of the 62 kilometres follows the course of the Nidda river, the rest is through open countryside and the city's woods. As you can see from the route profile below there are two "hills" to be mastered; and what looks like a sheer drop at km 15 is almost that! Just as well that section isn't asphalted. Otherwise it would need a government health warning. The view from the top across the expansive woods is wonderful, however. The shady woods to the south of the city make for very pleasant cycling, and the other day I was rewarded with the sight of a deer and her kid in the middle of the path. Indeed, for most of the 60-odd kilometres you would hardly think you were cycling "around" a city. There is agriculture of one sort or another everywhere. The route also passes the confluence of the Nidda with the Main at Hoechst, where the Main is crossed on a small passenger ferry to/from Schwanheim - a throwback to the good old days before people drove everywhere, I guess.
| | | | |
| --- | --- | --- | --- |
| Wölfersheim | Münzenberg | Münzenberg | Steinfurth |
Another beautiful autumnal Friday on the steel beast. This week I decided to cycle to the ruins of the castle at Münzenberg - otherwise known as the "Wetterau Inkpot" on account of its resemblence (from a distance!) to the same. The familiar ride up the Nidda to Assenheim, where I then linked up with the circular "Rhine-Main-Pleasure 2" theme route. This route mostly uses farm roads/tracks in excellent condition, and is generally quite decently signposted. While the route is not too hilly, it does still offer sufficient challenges to keep the cyclist on his toes. From a tourist stance the highlights are the White Tower in Wölfersheim and the casle in Münzenberg. It was around Münzenberg that I started to notice an abundance (or was it a plethora?) of signs for cycle-paths. The "Celts' Route" and the "Cider and Orchard Route" were just two of the signs that kept cropping up. By the time I reached the "rose village" of Steinfurth (if you like roses, the village is a must; it has some special micro-climate that favours their cultivation), things had reached the overkill stage - as you can see from the last of the four photos above. From then on it was a gentle ride through the spa town of Bad Nauheim to Friedberg, where - seeing as I now had 85 km behind me - I took the soft option home. The train!